I finally finished my NejiTen flash AMV after months of work!! YAAAAAY! (Video games and work delayed me much) I'll soon be posting this everywhere, but you guys get to see it first!

Do not expect Disney quality animation, in fact my animation is quite inconsistent lol So is my art, but I think it turned out nice anyways! Please enjoy! OOC Neji abuse FTW!!

Click on BEST SCREENSHOT EVER to watch it on Newgrounds!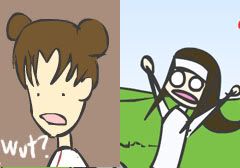 Comments are greatly appreciated, as are votes if you've got a Newgrounds account.