I bear FST goodness!


.01. 30 Seconds to Mars - Capricorn
.02. Green Day - Boulevard Of Broken Dreams (PB mix)
.03. Yeah, Yeah, Yeah's - Maps
.04. The Orange Peel – Something In You
.05. Tegan & Sara - Walking With A Ghost In Paris
.06. KT Tunstall - Stoppin The Love
.07. Bill Withers – Ain't No Sunshine
.08. BoA - My Name
.09. 702 - Star
.10. Mariah Carey – Fly Like A Bird
.11. Misato Aki - Kimi ga Sora Datta
.12. Paolo Nutini - Last Request
.13. 30 Seconds to Mars – Modern Myth
.14. Rama Duke - We Rise
.15. KT Tunstall - Silent Sea

You can get the FST from here ----> Splendid Mediocrity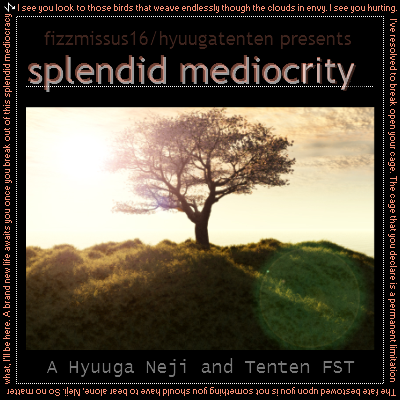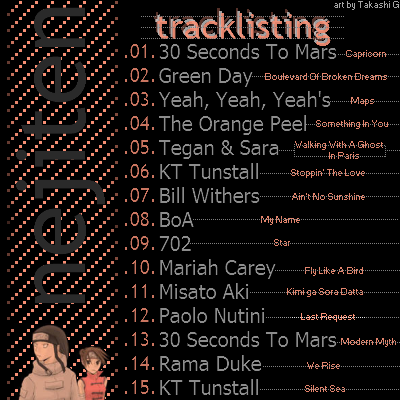 I named the FST Splendid Mediocrity because those two words sum up Neji and Tenten's relationship as we know it. Wonderful, yet understated. Hopeful, yet tangible.

30 Seconds to Mars - Capricorn
I love this song! It's guitar jam packed emotion all in one song!
When I listen to this song, I can picture Neji fighting for his life.

So I run and hide and tear myself up
Start again with a brand new name
And eyes that see into infinity
Full Lyrics

.02. Green Day - Boulevard Of Broken Dreams (PartyBen mix)
I listen to this when I watch Neji's post-fight thoughts. Especially the Kidomaru fight. When he is so close to the edge of dying, or someone has given him cause to erase his pre-conceived bias of the world.

My shadow's the only one that walks beside me
My shallow heart's the only thing that's beating
Sometimes I wish someone out there will find me
'Til then I walk alone Full Lyrics

.03. Yeah, Yeah, Yeah's - Maps
I think of the Hyuuga compound not accepting Tenten as Neji's potential mate. I think of Neji escaping for a few precious moments with Tenten just to remind him that someone does care about him.

Wait! They don't love you like I love you.
Made off;
Don't stray;
Well, my kind's your kind;
I'll stay the same! Full Lyrics

.04. The Orange Peel – Something In You
After Vienna Teng's 'Gravity'
This is NejiTen's second THEME SONG!

If I wasn't so space conscious, heh, I'd post all the lyrics up here, the song is catchy and so Nejiten-ish, that you cant help but like it.

In time, I'll drive
We'll fly so high
There's something in you,
that makes me want to be so free

.05. Tegan & Sara - Walking With A Ghost In Paris
Pre-NarutoRearrangedHisFace!Neji and his inital rejection of Tenten. He treats her as if she isn't there, or in this case, dead. Much like a ghost. But the ghost continues to haunt him. Hee.

No matter which way you go
no matter which way you stay
you're out of mind, out of my mind
Full Lyrics

.06. KT Tunstall - Stoppin The Love
My vote has this as another NejiTen theme song, but I'll leave that up to you. Neji is so hung up on training that he almost leaves the others behind. Almost. But being around Tenten starts to loosen himup and he cant help but feel the love. Acceptance being such a foreign feeling, he tries to block it out. Tries. :)

Oh honey
Don't want to be following and falling behind
If you're gonna be walking away
And I don't know
Why I wouldn't follow
Wouldn't follow

You got me looking up
Even when I'm falling down
You got me crawling out of my skin
You got me wondering why
I am underneath this big old sky
Stopping the loving getting in
Full Lyrics

.07. Bill Withers – Ain't No Sunshine
This classic is so NejiTen, I had to share it. Can't you almost imagine the pout on Neji's face because Tenten missed one day of training?

Ain't no sunshine when she's gone
It's not warm when she's away
Ain' no sunshine when she's gone
And she always gone too long
Anytime she goes away
Full Lyrics

.08. BoA - My Name
It's in Korean this go round, but the song is so cool that you dont care if you dont understand it!
This is Neji's introsuction into many things.
[stuffs nightclub!Neji in the box]
I began to realize after some point
Everyday is the same and tomorrow seems so far away
Then just take it! In reality, I wish something would happen.
After I got to know you, everyday is a different Fine Day

Dont have any doubts (get to know me better)
You like me right? You're becoming more like me
Oh, inside your eyes, you are looking for me

Full Lyrics

.09. 702 - Star
Another dance song thats so infectious, you gotta hear it! Neji is Tenten's star, up there in the sky!

You're My Star
It's such a wonder how you shine
So no matter how far
I'm dancing with you in my mind

Full Lyrics

.10. Mariah Carey – Fly Like A Bird
If you dont see the NejiTen in this, you are a noob. -_-
Just playing! But this song is beautiful, you'll listen and understand immediately.

Somehow I know that
There's a place up above
With no more hurt and struggling
Free of all atrocities and suffering
Because I feel the unconditional love
From one who cares enough for me
To erase all my burdens
And let me be free to

Fly like a bird
Take to the sky
I need you now Lord
Carry me high
Don't let the world break me tonight
I need the strength of you by my side
Sometimes this life can be so cold
I pray you'll come and carry me home

Full Lyrics

.11. Misato Aki - Kimi ga Sora Datta
I. Love. This. Song.
I imagine this as Tenten idolizing Neji at first, but reducing idolization into simple adoration. She still bases a lot of her hopes on him, no matter how hopless love might seem.

Chasing after the fragments of eternity,
You were my sky, you were my dream.
Turn the days thawed by passion...Into unforgettable memories,
And adorn them on your chest.
Search for my life, we will meet again someday.

Hold me close.
I feel my heart disappearing and I'm afraid.
In the clinging night, the stars
Were all we saw.In the midst of time, we were entwined by destiny.
The dancing feathers are heading towards our desired tomorrow.
Wishin' for my love, I will fly beautifully.

Full Lyrics

.12. Paolo Nutini - Last Request
I cried when I heard this. What if one of them were dying and they were trying to cherish their last moments together? Can you see it.

Grant my last request and just let me hold you,
don't shrug your shoulders
Lay down beside me
Sure I can accept that we're going nowhere
But one last time let's go there
Lay down beside me, ohhh
Full Lyrics

.13. 30 Seconds to Mars – Modern Myth
Two words: Curse seal.
I see this as the explanation of the curse seal and how he doesnt want to burden others with his problem. He thinks of how long he was mislead before Hizashi's letter. He thinks of how he is still partially trapped.

Do we create a modern myth?
Do we imagine half of it?
What happened then, a thought for now.
Save yourself.
Save yourself.
The secret is out.
The secret is out.
To buy the truth,
And sell the lie:
The last mistake before you die.

So don't forget to breath tonight;
Tonight's the last,
So say good-bye.

The secret is out.
Full Lyrics

.14. Rama Duke - We Rise
This is the classic love song, but it's so beautiful, you'll love it and put it on repeat like I do everyday.

We Rise
Despite of our fears inside
Caused by those who burn us down with their lies
Together in your eyes
To love that sores beyond time
A connection so electric and high
From our rashes we'll rise
We'll rise

Only time knows
How high together, high together
We will fly
No labels some things adjust
To sacred to transcribe
I know you being here
Has made me feel so alive
Full Lyrics

.15. KT Tunstall - Silent Sea
What would Neji do if after all the abuse, he finally was free of the curse seal? Slow ballad.
And the harder they hit me
The less I seem to bruise

And when I
Find the controls
I'll go where I like
I'll know where I want to be
But maybe for now
I'll stay right here
On a silent sea
Full Lyrics


Please comment about the FST, need to know if it's good or not.
If you could,What's your favorite song off of here?
Also, my other FST Mysteryis still active.